Pride of "Made in Japan"
All of Live Line Cables feature the original 1/4" plugs of made in Japan. It is heavy duty plug with special steel alloy shaft inside the plug to reinforce stress from side. And its shape of plug tip is compatible with the world's standard 1/4" jacks.
Lifetine Guarantee
Only in Japan.
REV Series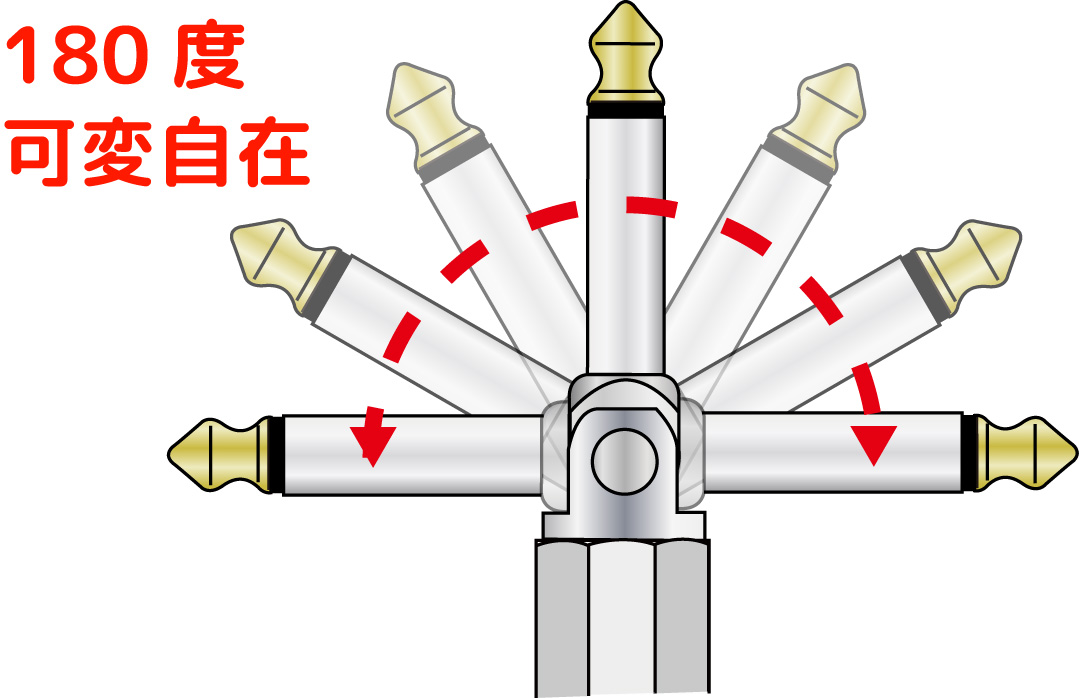 SWIVEL HEAD DESIGN PATCH CABLES
Using LJ-180 plugs(Patent Pending) which has variable angle "180 Degree" head/ Not only 45 or straight, it makes really flexible wiring of complicated rack or pedal board system.
Newly developed high density braided shielded cable ensure absolute noiseless signal transfer. Careful and reliable Japanese craftsmen ship guaranty perfect soldering and no signal loss at joints and transfer tone directly.
Studio Series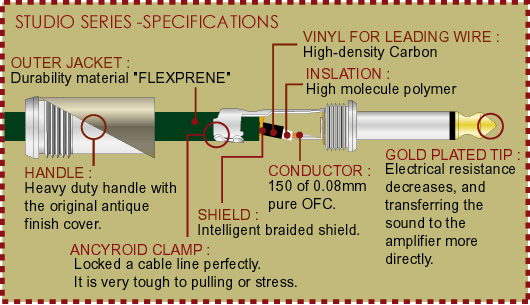 The ultimate conductivity of the pure instrument sound directly to the amplifier with no dullness of sound.  Also, the development of a high level of compatibility between the sound quality and the cable durability.
Pure OFC copper coaxial cable with original polymer insulator realize super clean tone transmission. Vintage finished heavy duty plugs and original dark green Japan-made cables are very unique and high quality. Hand-soldered by skilled craftsmen in Japan.
Advance Series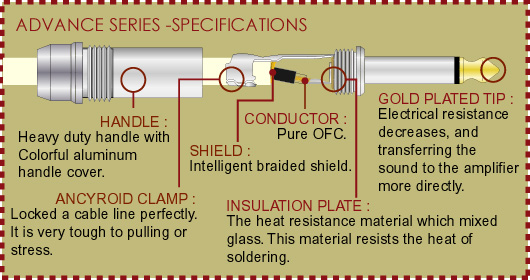 Advance Series cables are fusion of fashion and tone.
Colorful plugs with unique white cables made in Japan. Realizing low noise and open sound by high-end OFC Cables. Heavy duty custom made plugs with colorful aluminum parts and Japanese hand craft guaranty solid and perfect connection without signal loss or other troubles.
Colorful alminium parts:Unique and colorful aluminium handle cover have 6 color variation.It will make you stylish on the stage!
Innovation Series 
NEW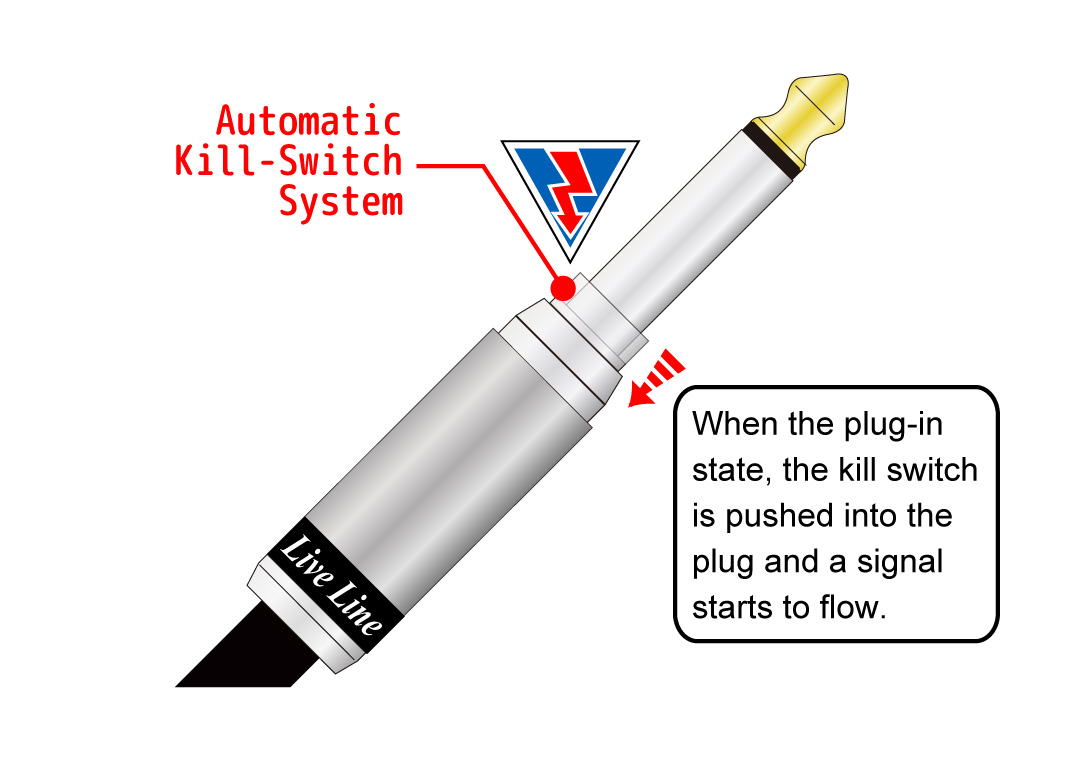 The moment the plug came off from your instrument, killing the signal momentarily. Mute the annoying POP noise automatically.
The innovative new plug with kill switch system that is cut the signal automatically when the plug came off from your instrument mutes the annoying POP noise, and it makes it possible to quick and silent changes.
Stage-Fit Series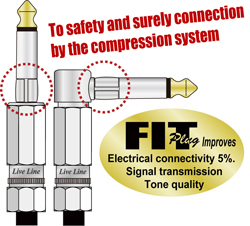 To safety and surely connection by the compression system that improve the signal transmission and tone quality.
The FIT plug is already using on stage of tour 2015 by B'z backline team "FAT", and its effect and durability has been demonstrated. The STAGE-FIT series is reasonable price range cable that adopted its FIT plug.
The FIT compression plug system contact by surface not only point, it improved pull out resistance about *10%. It is not too tight and very comfortable fit response. It will reduce potential of noise or signal loss by bad contact or pull out by accident. By the tight fit of plug and jack, it will improve electrical connectivity about *5% and improve signal transmission and tone quality.
* By our own investigation
LE-Stage Series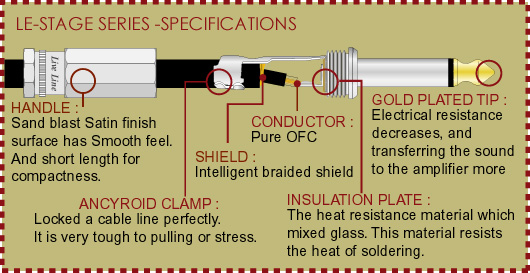 Next Generation instrument cable.
Hand-assembled in Japan with custom made cables and connectors made in Japan. Custom designed octagonal handles are very beautiful and smooth feel. Custom made low capacitance cable ensure noiseless clean signal transmission. Optimized for stage use.
Stage Series
UPDATED
LiveLine x FAT Collaboration
Microphone Cables
High-quality 4-conductor microphone cables.
Custom Cables